Bisnode Business Contcts – FAQ
What sources does Bisnode use?
Bisnode uses different sources in different countries to provide the data. Some of them are in the private sector and others are gevementonal owned agencies.  Read more about Bisnode's sources in this PDF.
Is there any limit of how much information a user can download?
No. The amount of downloads only affect the price. The more you download the lower the price can get. Please check the pricing table below.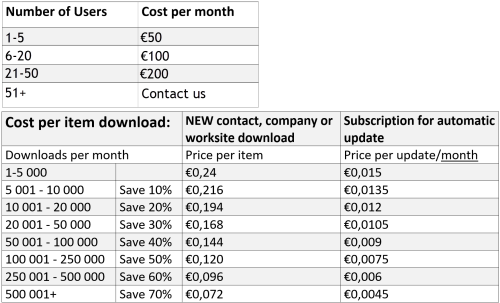 I have SuperOffice on-site/on premisses, can I still use this app?
Yes! We just need to install this on your servers. E-mail us at sales@i-centrum.se of fill out the form below, and we will be happy to assist you.
If you have any other questions, please fill out the form below and let us now.