Instructions for GetAccept – SuperOffice merge fields
This will help you transfer data from SuperOffice automaticially to your GetAccept templates, speeding up the creation processes greatly.
1. Login to GetAccept
2. Click on Content Library on the left-hand side
3. Click on an existing document, or create a new


4. Click on Add new custom merge tag at the bottom of the dropdown
5. In the Merge Tag input, add any of the variables from the table below.
Make sure to remove any spaces before/after.
The example below will add the name of the company connected to the sale.
Add your label to Fallback Value, describing what field it is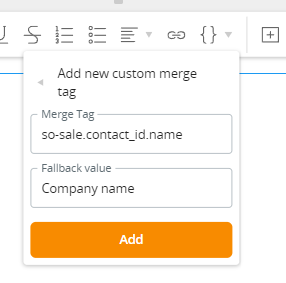 6. Now SuperOffice will populate the information directly in the template.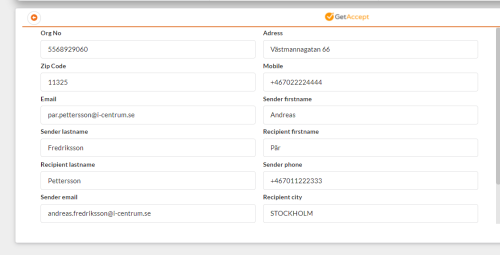 Below you will find the most common  variables
Sale Fields
| Field in SuperOffice | Merge tag |
| --- | --- |
| Heading | so-sale.heading |
| Description | so-sale.text_id.text |
| Amount | so-sale.amount |
Company fields
| Field in SuperOffice | Merge tag |
| --- | --- |
| Name | so-sale.contact_id.name |
| VAT number | so-sale.contact_id.orgNr |
| Department | so-sale.contact_id.department |
| Number | so-sale.contact_id.number2 |
| Our contact | so-sale.contact_id.associate_id.fullName |
| Postal address | so-sale.contact_id.address/line1 |
| Postal zipcode | so-sale.contact_id.address/zip |
| Postal City | so-sale.contact_id.address/city |
Recipient
| Field in SuperOffice | Merge tag |
| --- | --- |
| Firstname | so-sale.person_id.firstname |
| Lastname | so-sale.person_id.lastname |
| Email | so-sale.person_id.emailAddress |
| Phone | so-sale.person_id.mobile/formattedNumber |
| Title | so-sale.person.title |
Sender
| Field in SuperOffice | Merge tag |
| --- | --- |
| Firstname | so-sale.associate_id.person_id.firstname |
| Lastname | so-sale.associate_id.person_id.lastname |
| Email | so-sale.associate_id.person_id.emailAddress |
| Phone | so-sale.associate_id.person_id.mobile/formattedNumber |